Joshua Porter (STM CLass 2015) was inducted into the

Strake Jesuit chapter of

the National Honor Society.

The Strake Jesuit chapter held its induction Mass on Thursday, May 3, 2018, at 6:00 pm in the Parsley Center. Prospective members maintain at least a 3.35 cumulative grade point average, perform at least sixteen service hours during the present academic year, attend all NHS meetings, and demonstrate outstanding achievements in the areas of leadership, service, and character. Congratulations Joshua as

you continue to make a positive difference in the lives of others and in the spirit of Jesuit's school community.






























 
Logan Burnaman
(STM Class of 2012)
Logan, a sophomore
at San
Jacinto college
, visited our Junior High teachers and we were "all smiles. ~:) We enjoyed reminiscing with an autographed picture of the Crew of Space Shuttle Mission STS-118 which Logan and Kate
presented
to our school in 2008
. Logan promised to come again to visit and keep us
updated
on his
future
college plans.



I

feoma Mbue

(STM Class of 2014) has committed to play varsity athletics during her college years at Southwestern University in Georgetown, TX. Her family, coaches, and classmates cheered on as Ify signed her letter of intent.





"

Being able to sign to play collegiate basketball has been a dream of mine since 8th grade. Reaching this milestone has not always been easy but all the long hours in the gym and the injuries I have been through have all been worth it. This dream has become true because of the unending support from my team, parents, and high school and AAU coaches." Ify continued "As I go to Southwestern, I'm most excited about being able to have a new family and strong support system as I start my college journey. I am extremely excited about fulfilling my duty as a Woman of the Word through my academics, basketball, and service."

Kate Burnaman (STM Class of 2014) Congratulations to St. Thomas More grad, IWA senior and volleyball co-captain, Kate Burnaman, on being named the Memorial Hermann Ironman Sports Medicine Athlete of the Week. After having a season filled with injuries and surgeries, she made an inspiring comeback that earned her this wonderful honor. Despite having shoulder and knee surgery she emphasized the importance of persevering: "If you get knocked down, whether it be in life or in sports like that, you have to always keep going and show that you're strong enough." Memorial Hermann came to IWA to present Kate with an award and film a short segment premiered on the ATT network last week.

 
Kristina Lesniak (STM Class of 1999) has been selected by the Houston Independent School District as one of their seven elementary level finalists for 2016-2017 Teacher of the Year.  Kristina is currently teaching at HISD's Harvard Elementary School.  The finalists were selected from all 287 campuses based on performance data and other criteria.
LeeAn

ne Williams
(STM Class of 2013) will be attending Notre Dame in August!


Bryan Williams (STM Class of 2010) will graduate from Notre Dame in May 2018 with a Masters of Divinity.  He will become a deacon in August 2018 and will be ordained on April 28, 2019 (Divine Mercy Sunday).  Bryan will be ordained at the
Basilica
on the Notre Dame campus.

Terry Felton (STM Class of 1999) has been named as one of the Genetics Society of America's DeLill Nasser Award for Professional Development winners for 2016.  The DeLill Nasser Award for Professional Development in Genetics was established in 2001 as an award for graduate students and postdoctoral trainees to support travel costs for young geneticists to attend national and international meetings and enroll in laboratory courses.  The award is named for long-time GSA member and National Science Foundation Program Director in Eukaryotic Genetics, DeLill Nasser.

Terry is currently attending University College London where he is working on his Ph.D. in the Cell and Developmental Biology Department.  After graduation from Strake Jesuit College Preparatory, he earned a B.S. in Biology from Xavier University in New Orleans.  After an internship at MD Anderson Cancer Center in Houston, he returned to Xavier to do research.  He continued his studies in Biochemistry and Biophysics at Columbia University in New York where he later served as a Research Technician before moving to London.



Congratulations to the STM Scouts earning their Eagle Scout Award...
(top row) Paul Rabalais (STM Class of 2013), Mason Palmer (STM Class of 2013), Noah Riehl (STM Class of 2013), Noah Cook (STM Class of 2013), Mitchell Mezek (STM Class of 2013)
(bottom row) Joseph McConnell (STM Class of 2013), Michael Kalwick, Liam Conner (STM Class of 2014),
Asher Price
(STM Class of 2013).
Samuel Browning (STM Class of 2013) has been named a Semifinalists in the 62nd annual National Merit Scholarship Program. He is among the academically talented high school seniors who now have an opportunity to continue in the competition for some 7,500 National Merit Scholarships worth about $33 million that will be offered next spring. To be considered for a Merit Scholarship® award, Semifinalists must fulfill several requirements to advance to the Finalist level of the competition. About 90 percent of the Semifinalists are expected to attain Finalist standing, and about half of the Finalists will win a National Merit Scholarship, earning the Merit Scholar® title.
About 1.6 million juniors in more than 22,000 high schools entered the 2017 National Merit Scholarship Program by taking the 2015 Preliminary SAT/National Merit Scholarship Qualifying Test, which served as an initial screen of program entrants. The nationwide pool of Semifinalists, representing less than one percent of U.S. high school seniors, includes the highest- scoring entrants in each state. The number of Semifinalists in a state is proportional to the state's percentage of the national total of graduating seniors.



Marina Pirzada (STM Class of 2013) has been recognized as a Commended Student in the 62nd Annual National Merit Scholarship Program - representing the top 5% of students who take the PSAT/NMSQT in the country. Marina will graduate from Incarnate Word Academy this spring.


Congratulations to Ezinne Anozie, Class of 2014, (1st place overall Team Championship), Carl Collins, Class of 2015, (3rd place 4x400m Relay, 1st Place overall Team Championship) and Maryella Cohn, Class of 2013, (3rd place 1600m Run, 2nd place 3200m run, 8th place 800m run, 1st place overall Team Championship).



 
Erin Hollamon (STM class of 2013) performed in HSPVA's production of "Singing in the Rain". She was a featured dancer in the ensemble and Tap dance double for the Gene Kelley guy!





 
Justin Quiroz
(STM Class of 2005) professed First Vows in the Society of Mary in June 2016.  In the fall he will be teaching Computer and Religion at Mother Seton Academy in Baltimore, Maryland. 












Tori Hollamon (STM Class of 2012) has signed with Nova Southeastern University to play soccer.

Olivia Rabalais (STM Class of 2005)  graduated from the University of Texas at Austin in May 2013, with a BA in Art History with honors and a Certificate in European Studies.  She married Jeffrey Ellis on August 1, 2014, and is currently the operations manager at Solaro Estate Winery in Dripping Springs, Texas.


Michael Felton Class of 2009)   graduated from the United States Military Academy at West Point and is a Lieutenant in the U.S. Army.
John Luke Broussard (STM Class of 2015) Helps Strake Jesuit Quiz Bowl Team
Earn Berth in National Championships
Jesuit's Quiz Bowl Team competed at the Bluebonnet Bowl at Seven Lakes High School.  The team of
John Luke Broussard,
Sean Doyle, and Joshua Hew along with junior Will Smith continued its remarkable achievement with a 7-1 record at the event.  With their outstanding performance, the team qualified for the prestigious NAQT High School National Championship Tournament in May.  This will be Strake Jesuit's first appearance at Nationals since 2006.  Congratulations to
John Luke Broussard
!!!!!
STM is proud of our former students as they continue to represent loyalty qualities developed at STM and promoted by IWA.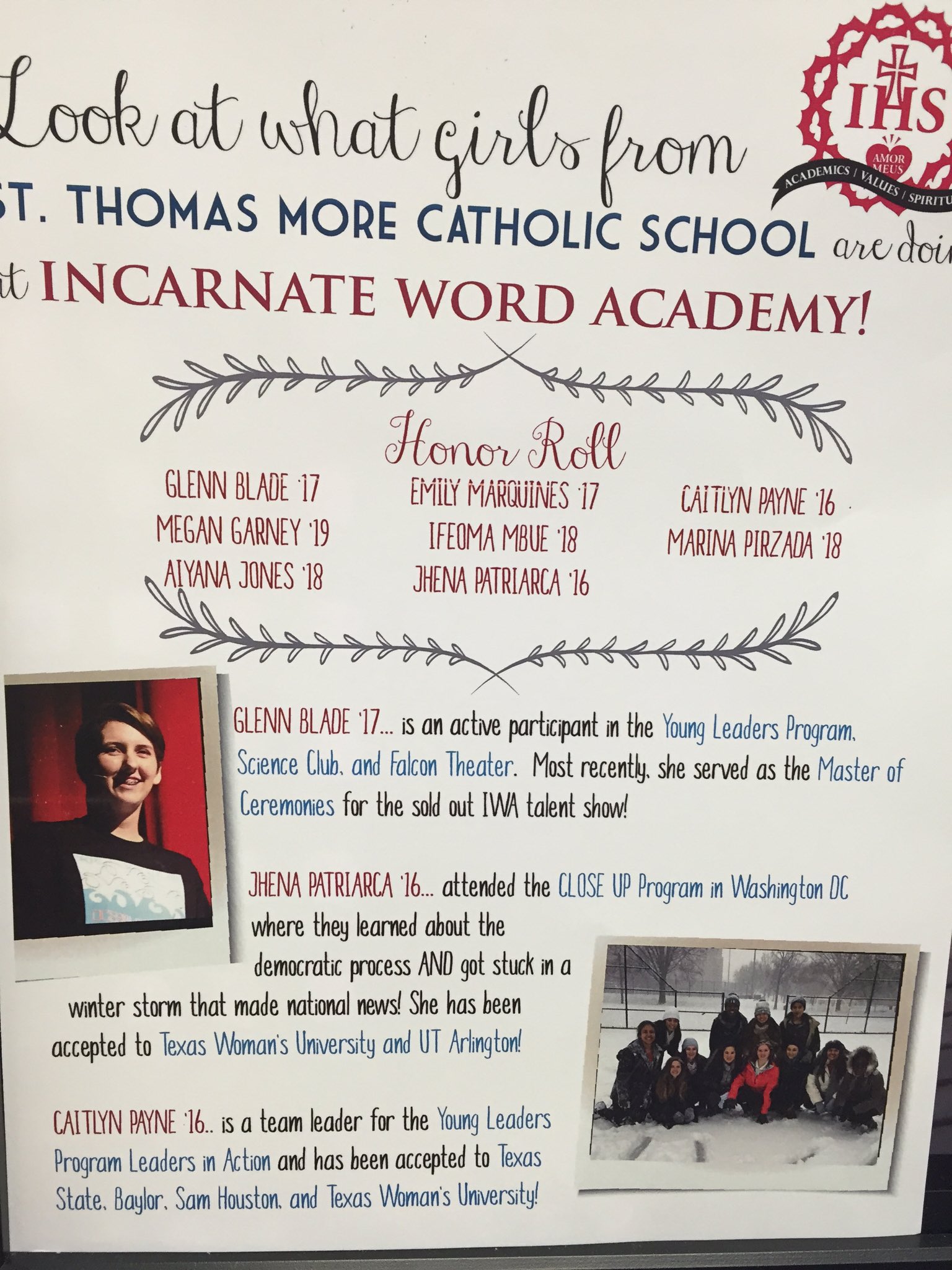 Allison Joan Louis ('03) was recently inducted into the University of Chicago chapter of the Gold Humanism Honor Society. In a ceremony held on February 2, 2016, Allison and sixteen classmates were honored as demonstrating excellence in clinical care, leadership, compassion, and dedication to service. She is scheduled to graduate from the Pritzker School of Medicine in May 2016.


---

 
Tyjae Scales (STM class of 2011) signed with the University of Tulsa.